Greetings!
MyHeritage has a wonderful limited time promotion. Please see the information below. By uploading you do not pay the upload fee and you will have lifetime access to all the DNA features.
Upload all the DNA kits you manage!
MyHeritage wrote:
I have great news! We're running a special DNA upload promotion between February 21–28, 2021 so folks who have tested with other services can access all advanced DNA features on MyHeritage, absolutely free!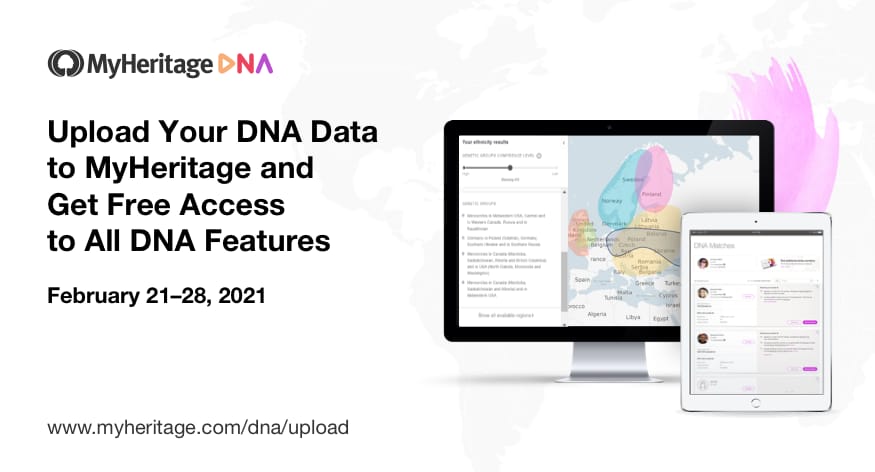 As you know, Genetic Groups significantly increased the resolution of MyHeritage DNA's ethnicity breakdown to 2,114 geographic regions and our users have been raving about it ever since. But many people who have tested with services such as 23andMe, Ancestry or FamilyTree DNA Family Finder, were unable to join the fun.
MyHeritage allows you to upload your DNA data from other providers and get DNA Matches for free, but a one-time unlock fee of $29 (or a Complete plan with MyHeritage) has been required to access the advanced DNA features — and that includes the Ethnicity Estimate and the new Genetic Groups.
Well, we don't want you to feel left out just because you tested with another service! For a limited time only, between February 21–28, 2021, we are waiving the unlock fee. You can now upload your DNA data to MyHeritage and get access to your Ethnicity Estimate, Genetic Groups, and other advanced DNA tools such as the Chromosome Browser, AutoClusters, and Theory of Family Relativity™ — absolutely free! These features will remain free forever for the DNA kits you upload to MyHeritage during this week.
Please share this exciting news with your readers and encourage them to take advantage of this offer and upload their data to MyHeritage. Read more about this wonderful offer on our blog.
Enjoy,
Daniel Horowitz
Genealogy Expert